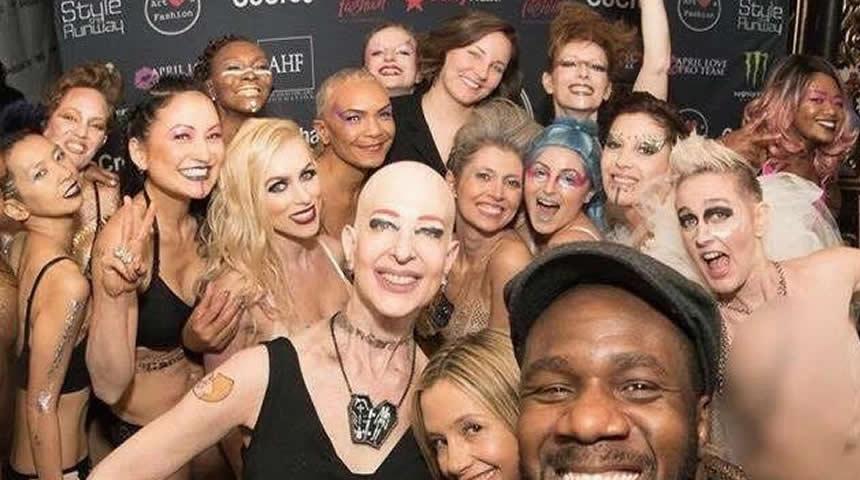 The Real Reasons Why 16 Breast Cancer Badasses Walked At NYFW
It's been two weeks since sixteen non-models bore everything at New York Fashion Week's exhibition titled "Exposed", a show by AnaOno for #Cancerland. In the days since, there have been thousands of articles, tweets, and updates about these brave individuals-- all well deserved. But beyond the shock value and beneath the scars, the media has failed to ask one question: why? Why have a fashion show about breast cancer at all? And why now?

We spoke with Champagne Joy, the founder of #Cancerland, a nonprofit organization for women who juggle their fascinating existences with their breast cancer diagnoses through political rallying, charity functions, and party throwing, to find out.

The answer was very direct: because not enough people really know the truth about metastatic breast cancer. For the uninitiated, metastatic breast cancer-- also called stage IV, advanced breast cancer, and MBC -- is breast cancer that has spread beyond the breast to other organs in the body. And there isn't enough being done to make it less than a death sentence.

As a metastatic breast cancer fighter, Champagne has dedicated the last part of her life for the chance for other people to live longer. After we finished talking, one thing was clear: we've got an entire generation of people dying off at a young age, and we ALL really need to start talking about it.

Here are the reasons why Champagne Joy and Dana Donofree of AnaOno Intimates put together "Exposed" for New York Fashion Week 2017:

1. Because breast cancer doesn't kill - metastatic breast cancer does

All deaths from breast cancer result from it spreading to vital organs, often the bones, lung, liver or brain. No one dies from breast cancer that is confined to the breast. And that's just the first myth to bust. Although the median age for a breast cancer diagnosis is 62, cancer is the leading cause of death from disease in women ages 20 - 39 and breast cancer accounts for more than 40% of cancer diagnoses during those years.

2. Because people still think breast cancer is a pink ribbon

"I don't like to use the word 'awareness' because I think there was a lot of awareness that was manipulated in the wrong direction," said Champagne, "so if 1,500 people didn't die a day of this disease, maybe there would be time for new awareness. But there isn't. So people are just going to have to become aware as we go along."

MBC-focused research made up only 7% of the $15-billion invested in breast cancer research from 2000 to 2013 by the major governmental and nonprofit funders from North America and the United Kingdom. Being MIA during giant awareness campaigns like Pink October naturally perpetuates its lack of representation both in general cultural awareness and in the medical arena.

There are still huge gaps in data about people living with MBC, which results in less medical urgency for increased research and development of support services for it. So maybe it's not your fault for not knowing about metastatic breast cancer, but there's nothing like sixteen models coated in glitter and strutting their mastectomy scars to get you to start asking the right questions about it.

3. Because this is not just about our breasts or our beauty

You might be scratching your head at this moment, asking "But why wouldn't MBC be getting more attention if it's really the killer behind breast cancer?" According to Champagne, there are a few different reasons - including it being a women's disease and all the age-old discriminations that go along with that.

"I believe that...there is a parallel between a woman not getting equal and not getting equal research money. And that if it's ok not to cure my illness because I'm a woman, it's ok to have human trafficking, and if it's okay to have that then you have domestic violence. All of these things-- they stem from the same inequality," Champagne said.

"It's not about breasts, it's not about beauty, it's about identity. And so, women are binding together to say 'My identity says that I'm more than [just] equal. I am deserving of life, I am deserving of a cure, and I'm going to make sure it finally happens.'"

And don't worry -- we're not forgetting the 2,600 men who will be diagnosed with breast cancer in 2017. Champagne added, "Plenty of men get breast cancer, and they get really screwed because their [male] privilege suddenly doesn't exist because they happened to get in with a disease that's been neglected because it's a woman's issue. . .This is not about looking the way you want us to look, this is about Revolution and Evolution. We called the NYFW event "Exposed" for a reason."

4. Because we've just started to make real medical advances

The incidence of metastatic cancers generally hasn't shifted since 1975 despite the propensity of widespread screening programs, but there have been some key developments in cancer treatment that are starting to chip away at lowering the mortality rate. "The availability of a first-of-its-kind-treatment option like [palbociclib, a targeted therapy drug] for women dealing with HR+/HER2-metastatic disease represents a very important advance," says Dr. Marisa Weiss, founder of Breastcancer.org.

Immunotherapy 2.0 was named the medical advance of the year for 2017 already and has been responsible for a growing wave of progress that has extended and improved the lives of patients all over, many of whom had few other effective treatment options. But that's the kicker-- it's availability that's the gateway to seeing a real change.

5. Because we're at the brink of turning it into a chronic disease, not just a killing one

This isn't just a topic for 'awareness' sake - there is real change that can and needs to be done. Champagne is working towards making a legislative change that would allow all metastatic diseases to be seen as equal in the insurance billing and coding law. Because then, Champagne said, "People could get their meds, people can take their meds, and they all cost the same thing and when you start to see combinations of drugs, you start to see people living." She continues, "Instead of 10 months, you start to see them living 20 years. It's how they treated AIDS, it's how they treated Hodgkins. It's the answer."

6. Because we need your help

"If there's going to be change within the legislative structure and the research numbers into this disease," Champagne emphatically said, "it's going to come from the voice of a generation of young women that are outraged that this was never looked into, and therefore they were condemned to die."

The glitter you saw on the models was there to catch your eye, but it was the bodies beneath it that need your help now that you know their realities -- and all of the other lives that could be saved by pushing for greater accessibility to cancer-fighting drugs. These are the steps you can take now to help pay it forward without spending more than your time, energy, and laptop battery:



What changes you do want to be a part of in the metastatic breast cancer community? Tell us in the comments below!

Photo courtesy of Orville McEachron Photography.