IHadCancer's Blog Awards of 2016
The IHadCancer community is centered around our belief that sharing experiences leads to the inevitable sharing of strength. We do our best to listen to all of you and to help share stories across all topics, but we know that the stories we share are just a tiny helping of all of the stories that are being told out there on a daily basis. There are thousand of cancer survivors, fighters and supporters all over the world who are actively sharing their stories and doing what they can to raise awareness, inspiration, and encouragement for this community.

We decided to host our first ever blog awards to help get some awareness out there for just a few of these thousands of writers. We received hundreds of submissions. These blogs are picked by the community, for the community, to recognize the crème de la crème of cancer-related blogs of 2016 (please note: these are listed in alphabetical order, not by ranking).

Without further ado, we present the Top 10 Cancer Blogs of 2016.

Bowled a Googly
Lisa Hayter, breast cancer survivor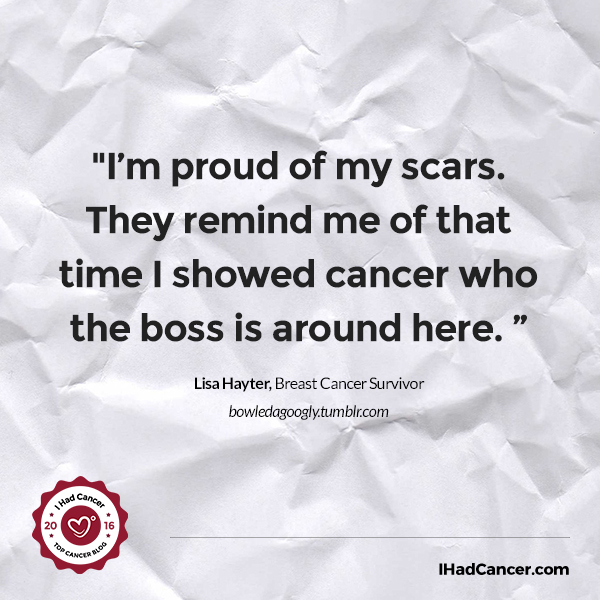 In her own words, Lisa shares that she often doesn't start writing a piece with a specific direction in mind, rather she just starts writing and sees where it takes her. In this case she's created a blog chronicling her personal journey from being diagnosed with Breast Cancer at 30 years old to finishing active treatment. She talks about the long lasting effects from chemo, being proud of her scars, her thoughts on "Pinktober" and breast cancer awareness, and more. She has written specifically and illustrated how breast cancer isn't "all about the boobs" and that's certainly clear after reading her blog.

Best for: finding ways to use your experience with cancer to help others.

Charmed Life, Meet Cancer
Michele Mann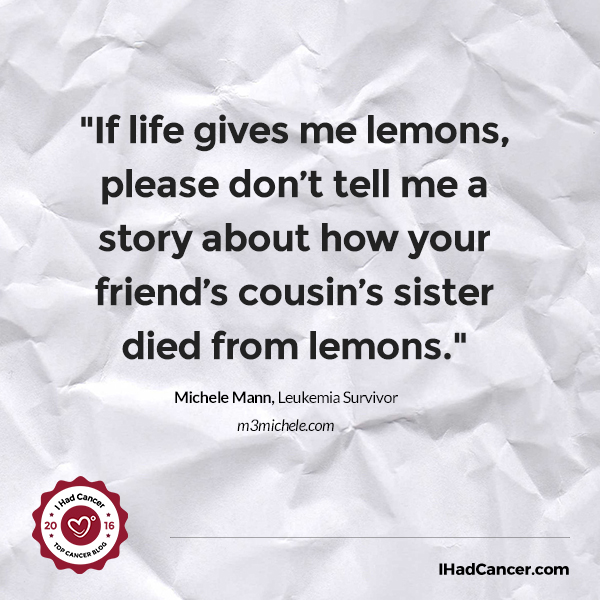 Michele was diagnosed with Acute Lymphoblastic Leukemia at 30 years old and chronicles her fight in her blog. Before her diagnosis, she worked as a makeup artist and business owner. She shares her most candid thoughts on having cancer at her age, undergoing a double cord blood transplant, and all the while never letting cancer get in the way of her personal growth and journey of self-discovery.

Best for: finding creative outlets to channel after surviving the life-altering experience of cancer.

Confessions From the Cancer House
Adrienne Gibson
, synovial sarcoma caregiver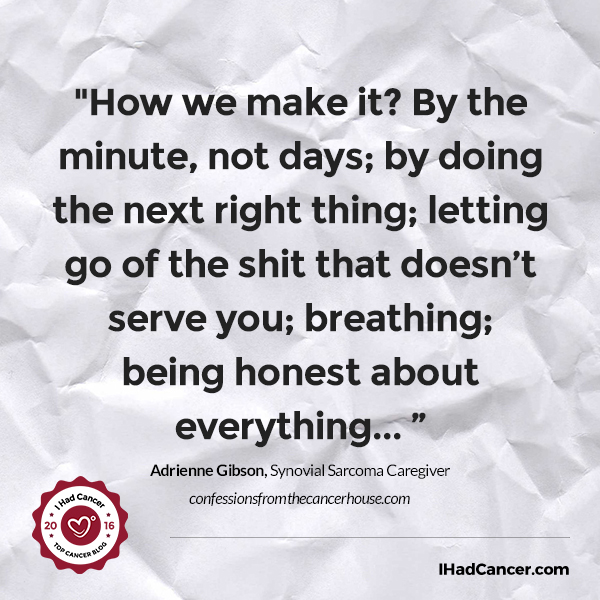 Written by a wife and caregiver to a husband fighting Stage IV Synovial Sarcoma, this blog shows us the realities and pain families experience, collectively, during cancer. Adrienne stresses the importance of using words like "we" and "us" in her blog posts because she wants to emphasize the fact that she will not let her husband go through this journey alone. Her unapologetic and authentic tone is what drives the narrative of this blog driven by loyalty and love for her family.

Best for: caregivers looking to find that they aren't alone in trying to find out what "normal" is supposed to look like when you're the sidekick to your kids and your significant other fighting cancer.

Dancing With Dr. Hodge
Cheyenne Geysen-Chartrand, hodgkin's lymphoma survivor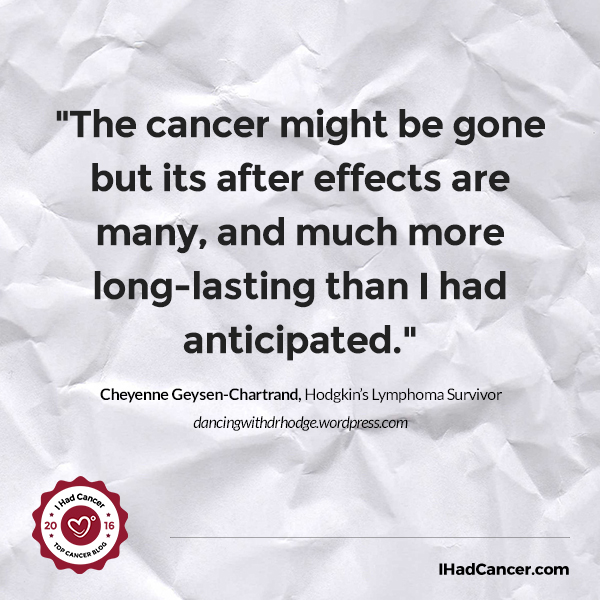 Cheyenne writes to "remind" herself and her readers who are going through their own battles of what's important. She hopes her blog can be used as a tool for others like her to draw inspiration from, and gain a better idea of what to expect when facing cancer. She writes how her days have been different, what's stayed the same, and what "normal" means to her now as a survivor.

Best for: no-bullshit advice on changing your perspective on your own cancer journey.

Fight the Big Fight
The Clarks
, Acute Lymphocytic Leukemia fighter & survivor team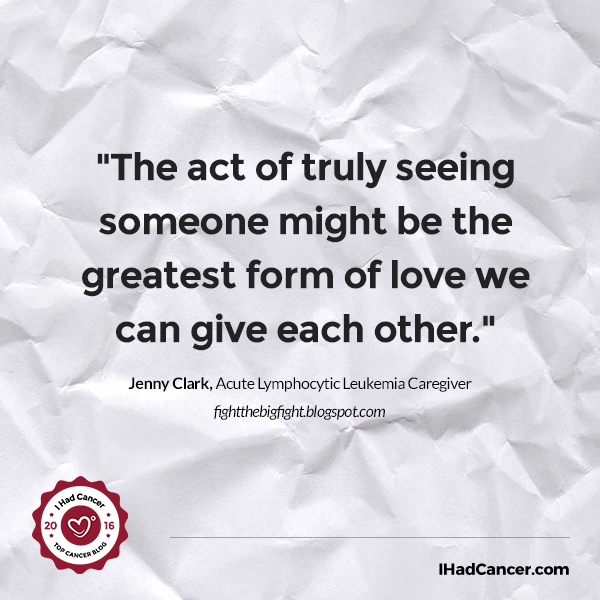 This blog is the story of a wife turned caregiver Jenny and her husband, Wil, fighting Acute Lymphocytic Leukemia. Currently they are at the "Consolidation" stage of treatment, where Wil receives regular cycles of chemo. The blog is mainly written by Jenny as she is a wife, coach, advocate, and caregiver for her husband. It illustrates the very real hardships a cancer-fighting couple face on a daily basis but it also shows us the values that transcend that-- love, companionship, and every kind of support.

Best for: caregivers looking for help on how to support their spouse through cancer treatment.

I'm Taking Charge
A team of writers, physicians, and survivors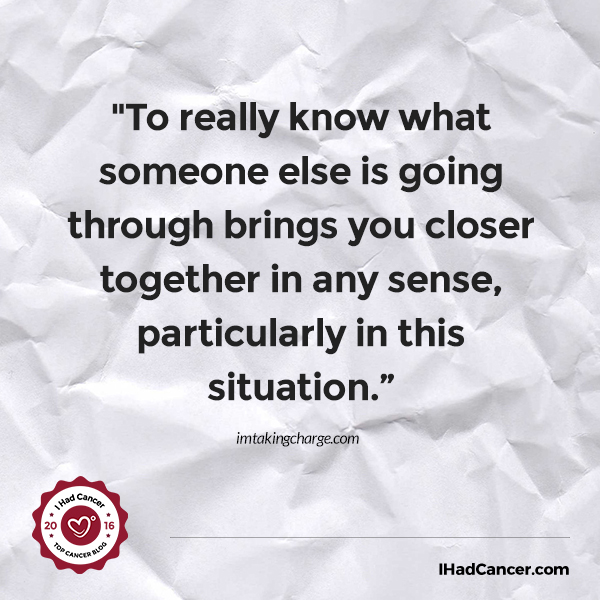 This coalition of women and men who have or are currently fighting breast cancer is a seriously badass group. Their site offers multiple types of resources from personal reconstruction stories to author interviews to new developments in laws. It's a really well-informed, multifaceted resource blog for anyone who needs the information to keep in touch with.

Best for:finding real, useful, and important medical and legal information about breast cancer and surviving beyond it.

Katie Over Cancer
Katie Mazurek, stage III breast cancer survivor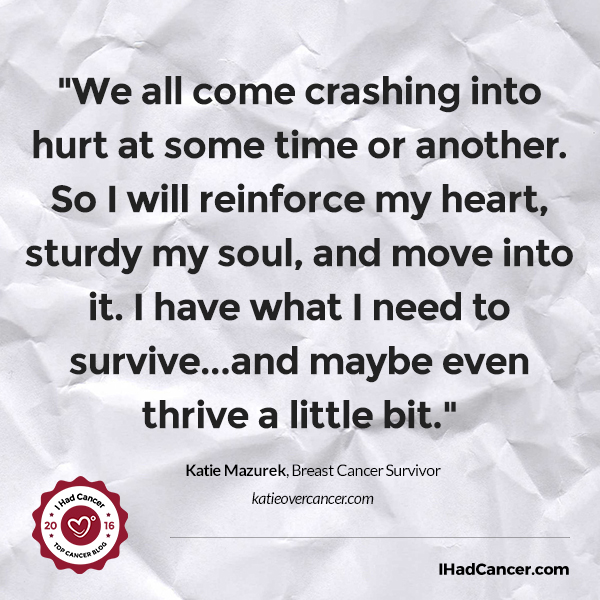 It's probably enough to introduce this blog with the author's own slogan: "Give 'em hell." Katie has an undeniable iron will. Her blog entries tackle the physical and emotional challenges of fighting cancer sans all sugar coating and she steels herself into a fight-mode attitude that inspires anyone who reads it.

Best for: inspirational quotes and stories about finding the silver lining.

Young Adult Cancer Survivorship by Steve Pake
Steve Pake
, testicular cancer survivor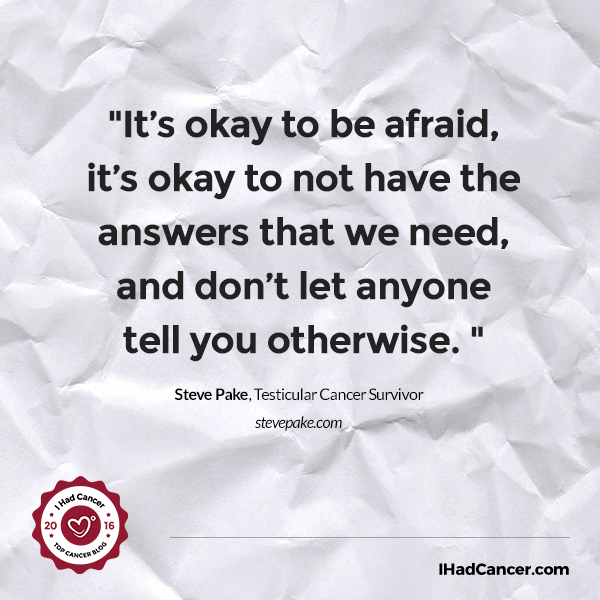 Steve has a way of taking ordinary experiences and turning them over to reveal a side we had never seen before. Time and time again he has united the IHadCancer community with his work as he writes about the subtle ways cancer affects us years after we're given our NED card.

Best for: finding the strength to push through the physical and emotional challenges of a post-cancer new normal.

TealElfs
Erica Frazier Stum
, recurring cervical cancer fighter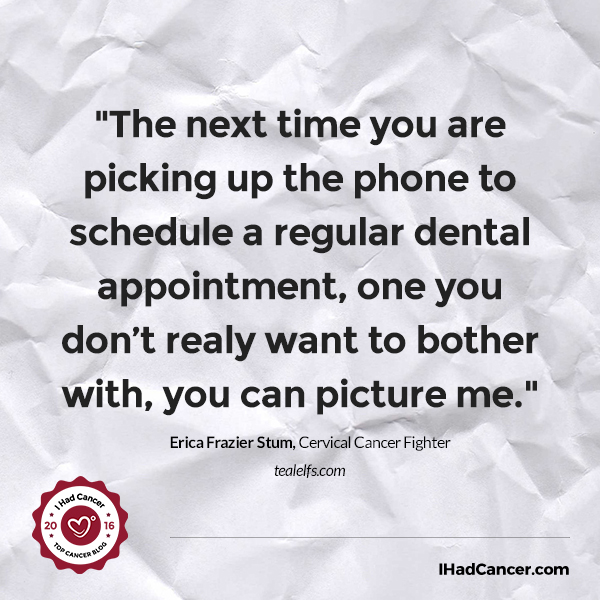 Erica is a glass-half-full kind of person who regularly celebrates the highs and lows of her life after diagnosis. She's an active participant of First Descents and will take the opportunity to distill advice into her posts to help out the next cancer-fighter or -survivor who stumbles upon them. Her blog also features pictures of what life from her perspective looks like to accompany her honest journeys with cancer.

Best for: visual cues about cancer treatment & tricks to make life with cancer easier.

Writer Sam
Sam Rose
, colorectal cancer survivor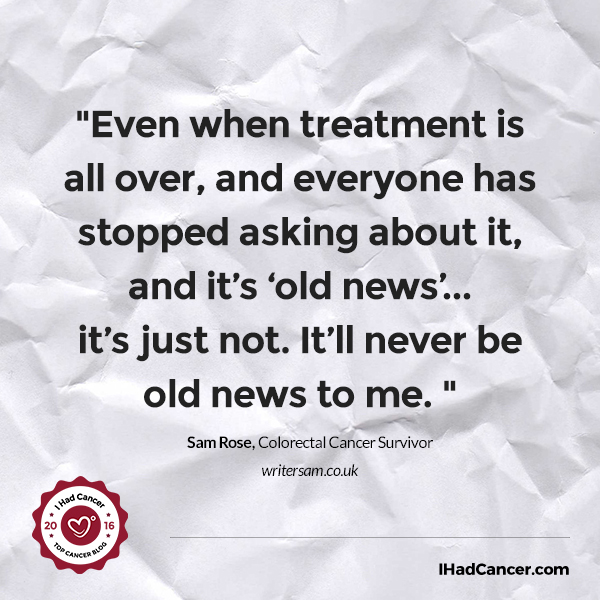 Sam is an incredibly talented poet who shines a light on the anxiety and depression that often accompanies cancer, putting into words experiences we can't all articulate but all can recognize. She is studying for her masters in Creative Writing in England. Sam offers a unique insight as a young self-described introvert personality type when she writes specifically about survivorship.

Best for: feeling isolated & navigating the darker paths of your cancer journey.

Special shoutout to some other great submissions we received:

A Single Cell, All Men Are Mortal, Some Have Cancer, Anna's Leukemia Blood Cancer Journey, Beating the Odds, Breast Friends Always, Boobs Don't Define You, Bravery Co., Cancer Saved My Life, Cancer: Curse or Disease?, Chemo Girl, Creative Transformations, Deniece Styles, Faith Over Fear, Finding Hope with Thyroid Cancer, Green Bay Oncology Blog, I'm Only Me, Jocelyn's Journey, Journey Out of Pink, Kaity Kasper, La Vida en Violeta, Life Is Good, Michael Holtz Online, Multiple Myeloma Man, My Cancer Fighting Journey, My Little Bs Have the Big C, Oops I Got Cancer, She Sparkles On, Surviving the Bubble, Survivor Moda, Tani's Blog, Journey Into Pink, The Colon Cancer Podcast, The Crushing Cancer Kitchen, The GIST Of Life, The New Girl In The Mirror Is Looking Back At Me, The Revenge Wogger, Theresa Hazard, Thivorship, Trail Roasted Goddess, Well Beyond Ordinary, Working With It: Having Breast Cancer & Being a Working Mom, You Can Fight Cancer

We read every nomination that we received and carefully selected these blogs to share in our first ever Blog Awards. If you would like to tell us about your blog, or would like to write for us, please reach out to blog@ihadcancer.com.