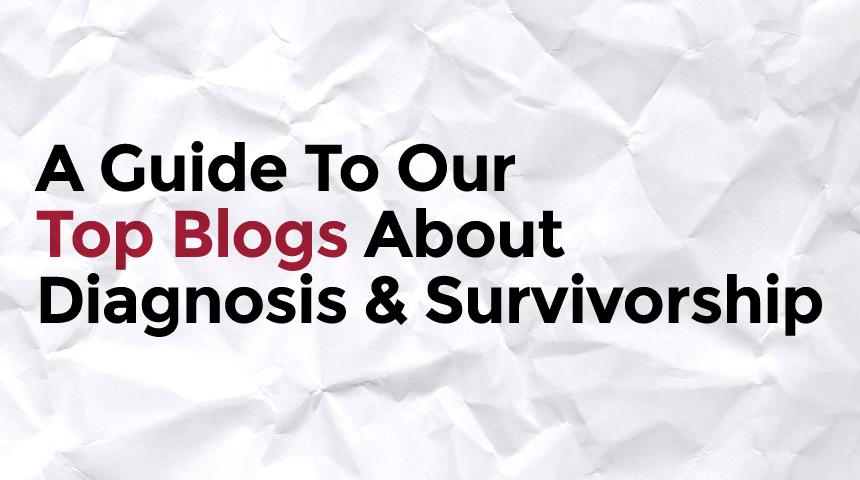 A Guide To Our Top Posts About Cancer Diagnosis & Survivorship
Each year, the Union for International Cancer Control (UICC) organizes a World Cancer Day with a unique annual campaign to teach people something about cancer. From 2016 - 2018 their theme is "We can. I can", with the objective to explore how everyone -- as a collective or as individuals -- can do their part to reduce the global impact of cancer. To do our part, we aim to reduce stigma, share practical resources, and spread support throughout the community to those who need it (and those who need to give it, too).

Sometimes you need someone to say the words you can't say, or you need to see someone else speaking to the same experiences you thought only you had gone through. Our team of writers at IHadCancer has a way of being able to accomplish both of those so well. So for this World Cancer Day, we pulled together five blogs that tackle the two biggest phases anyone who's gone through cancer has experienced.

For the Recently Diagnosed
The best place to start:

8 Things I Wish I Knew Before I Started Chemo
Related Issue: Preparation
If you find yourself hearing the words "you have cancer," the next best place to put your energy is into preparing for the fight of your life. This author's list can help prepare you in a unique way - by hearing it straight from a survivor's mouth (or, in this case, fingers).

21 Chemo Side Effects Everyone Should Know About
Related Issue: Preparation
This blog is from a survivor who has been there, done that, gotten the t-shirt, and have listed out all of the side effects that she experienced - even the lesser-known ones - and that can seriously help you think about the treatment differently instead of rushing into whatever you're recommended by friends or family.

6 Ugly Sides of Cancer Most People Don't Like Talking About
Related Issue: Stigmas
The truth is, there are still some stigmas that are related to cancer that a lot of people aren't comfortable talking about. But as soon as the conversation starts, you realize just how many people share in some of these

3 Things To Tell Yourself As Soon As You Are Diagnosed
Related Issue: Empowerment & Motivation
It's important to communicate with not only others, but also with yourself, when you are facing a diagnosis. Remind yourself of these 3 important mantras, and remember: you've got this.

This Is For Anyone Who Has Just Been Diagnosed With Cancer
Related Issue: Support
You're not the first person to be diagnosed - others have walked this road before you, and they are here to help. You won't be the last, either, and one day you will be able to share all that you learned with someone else. Shared experiences, shared strength.
Let me tell you, I was devastated about losing my hair on my head and eyebrows but surprisingly thrilled about hair loss everywhere else lol https://t.co/20ikd5LtbN

— Aisha (@Nioki77) February 1, 2017

For Those Trying to Navigate Survivorship or "New Normal" Land
Best Blogs:

6 Reminders for Survivors Who Are Still Afraid of Cancer
Related Issue: Fear of Recurrence
Fear can be debilitating. It's ok to be afraid during and even after cancer. But no matter how many fears we've faced, we all need reminders that give us a sense of direction and help us overcome our fears.
@ihadcancer I'm 11 years down the line after getting diagnosed and I'm still petrified of it coming back I feel as if I can't move on

— Claire (@Stokesy23Claire) February 2, 2017

I Hope This Helps You Understand My Energy Limitations
Related Issue : Fatigue
Sometimes it can feel impossible to properly explain what the effects of fatigue feel like. If you also struggle with sustaining energy post-treatment, this may be the best way to explain to your friends, loved ones, and even yourself.
Recovery seems slow sometimes, and I get frustrated by inability to do all the things I want to. This explains how difficult it can be. https://t.co/dGZtPpQbmg

— Astrid Disaster (@astrid_disaster) February 2, 2017

10 Things Cancer Survivors Want You To Know About Chemo Brain
Related Issue: Chemo Brain/Side Effects
Fighting for your life--and against your own body--seems like the hardest part when you're in it. But then comes all the extra parts left over from cancer - like chemo brain, something people don't really talk about. Well, until we started talking about it, that is.
. @ihadcancer 1 year post chemo #Cancer Free #WorldCancerDay picking up life where left off experience was both humbling and empowering !!

— Mia (@Dolce_N_Jeans) February 3, 2017

Can I Please Be Allowed To Have Hard Days After Cancer?
Related Issue: Expectations/ Stigmas
Cancer survivors are faced with a lot of stereotypes- not just with how they should look but how they should feel. Most survivors simply want the freedom of being able to have bad days, and have a hard time putting on the brave or happy face that others may expect of them.

10 Things Cancer Survivors Wish You Knew About Anxiety
Related Issue: Emotional Side Effects
Anxiety is one of those invisible scars that many cancer survivors carry with them for the rest of their lives. Sometimes it's impossible even to identify what the cause is - whether it's tied to fear of recurrence, scanxiety, or something else related to your cancer experience. It's important to open up to your loved ones about what you are experiencing, emotionally, and to seek the support of others who stand beside you in this mental fight.
@ihadcancer I'm 11 years down the line after getting diagnosed and I'm still petrified of it coming back I feel as if I can't move on

— Claire (@Stokesy23Claire) February 2, 2017

And that's what this community is for. It's a platform to let survivors reach out to fighters to give advice as someone who's walked in those shoes; it's for survivors putting an arm around other survivors as they figure out what happens now; it's for those who had cancer to speak honestly to the people who want to support and love them in a way that works for both of them. So thank you, to everyone who has contributed to making IHadCancer the place to go for genuine, tried-by-fire advice for all things cancer-related.


@ihadcancer bless you all that do this outreach! I get more here than I do from my doctors! Thank you! Blogs are amazing!

— Peg (@peg1955) January 27, 2017
Celebrating my one year #cancerversary with eternal gratitude, thanks, peace and a goofy grin. @ihadcancer #cancersurvivor pic.twitter.com/n9P8WtLVoy

— WarrenK (@MrSmithMachine) January 28, 2017
In what ways are you participating in World Cancer Day today? Share in the comments below or sign up here.

Photo courtesy of Arthur Poulin.