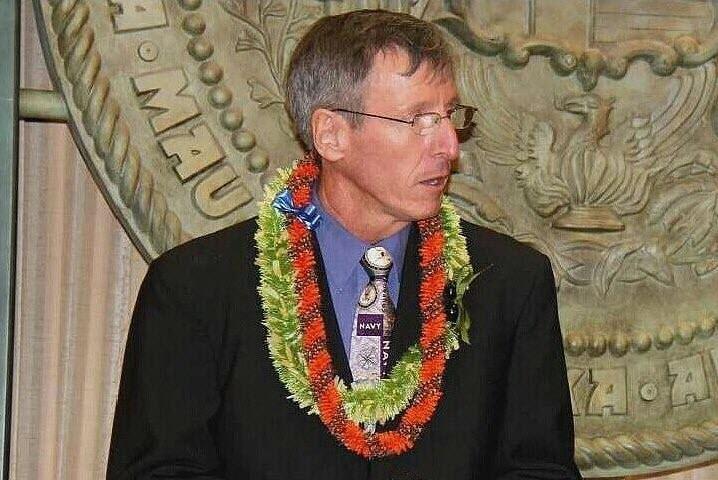 I'm A Veteran And A Hereditary Colon Cancer Warrior
My name is Dan Dry Dock Shockley, retired Navy, Operation Desert Storm; Enduring and Iraqi Freedom veteran and 9-year hereditary colon cancer WARRIOR with a permanent ileostomy.
It was during my first and only colonoscopy at age 51 that 100 polyps were discovered embedded throughout my colon, rectum, and anus. I was immediately referred to a Certified Genetic Counselor for further evaluation to include gene-specific DNA testing. The test results confirmed the diagnosis of attenuated familial adenomatous polyposis (AFAP), an autosomal dominant germline mutation.
Based on these findings it was in the best practice of medicine to undergo total-proctocolectomy w/ileostomy surgery. Throughout this process, my Certified Genetic Counselor and Colorectal surgeon encouraged me to read about the mutation, type of surgery, life as an ostomate, and routine ophthalmology examinations and endoscopic procedures of my stomach and small intestine. It's important to note that I didn't have any symptoms or family history. The mutation had manifested in my small intestine, stomach, and left eye.
During my 22-year Naval career, I realized that mental and physical strength is incredibly important attributes, especially in the face of personal and professional adversity. My military experiences have taught me that being informed, prepared, and maintaining a positive attitude while committed to the mission is instrumental in achieving success. When faced with challenges, both physically and professionally, I maintain a positive attitude and utilize numerous resources available that allow me the opportunity to better understand the situation. Challenges, such as a diagnosis of AFAP, are opportunities for me to overcome adversity.
From the onset, I embraced the diagnosis and initiated my personal research efforts to better prepare myself for life with an ostomy and hereditary colon cancer journey. It appears there are limited resources available for those with all varieties of hereditary cancer. I've enrolled in the Johns Hopkins Hospital; Creighton University and University of Michigan hereditary colon cancer registries. My hopes are that one day my hereditary colon cancer advocacy efforts will add substantially to this deficit of education pertaining to these concerns.
My Certified Genetic Counselor and Colorectal surgeon, at Tripler Army Medical Center, Hawai'i, are colleagues of Dr. Henry T. Lynch, the founding father of hereditary cancer research. He is credited with the discovery of AFAP in 1992 and co-authored a peer-reviewed publication on his findings. This rare gene mutation is estimated to impact <0.03% of the global population. Several months after my successful surgery I had the opportunity to meet and discuss my case w/Dr. Lynch during his visit to Hawai'i, where I resided. We remained in contact through the years as he was tracking my journey and has considered me a colleague.
My advocacy efforts include Colon Cancer Prevention Project; Colon Cancer Coalition; United Ostomy Associations of America (UOAA); National Organization for Rare Disorders (NORD); Wound, Ostomy and Continence Nurse (WOCN) Society; Ostomy Canada Society, based in Toronto, Canada; Rare Revolution Magazine and Find A Cure organization, both based in the UK; Living Well magazine, based in New Braunfels, Texas and American Cancer Society Cancer Action Network to mention a few. I've also been a live case presentation for Tripler Army Medical Center, Hawai'i; Oncology Nurse Society, Hawai'i Chapter and the University of Texas, Health Science Center, San Antonio, Texas. I've been a guest speaker at Relay For Life events in Hawai'i; California; Idaho and Texas. Through the years I've received Colon Cancer Awareness month; Rare Disease Day and Ostomy Awareness Day proclamations from the Governor of Hawai'i; Idaho and Texas as well as the mayor of each town I resided in these states.
Additionally, I've been a guest on numerous podcasts in the USA as well as in the UK; Wales; Ireland; Canada, and India. My current advocacy efforts are geared towards establishing legislative jurisdiction to designate the 4th week of March as Hereditary Colon Cancer (HCC) Awareness week. My HCC resolution has been sponsored by Texas Senator Donna Campbell, M.D., and it has been added to the Texas 87th legislature session agenda which convened January 2021. I'm requesting a concurrent HCC Awareness resolution. Once passed by the Texas House and Senate Floor, it will go to Texas Governor Greg Abbott for final approval and be effective for 10 years from the date of signature in the state of Texas.
My ultimate goal is for a Senate Resolution to be issued establishing HCC week nationally. It's a daunting task and may take years to accomplish. However, I'm battle-tested and ready to lead the charge.
My Vision is to share my journey nationally and internationally as a source of inspiration and encouragement on overcoming adversity.
My Purpose is to educate the world about my hereditary colon cancer syndrome and the importance of early detection in efforts of continuing the legacy of Dr. Henry T. Lynch.
Always Forge Ahead with a Purpose!
Photo courtesy of author.