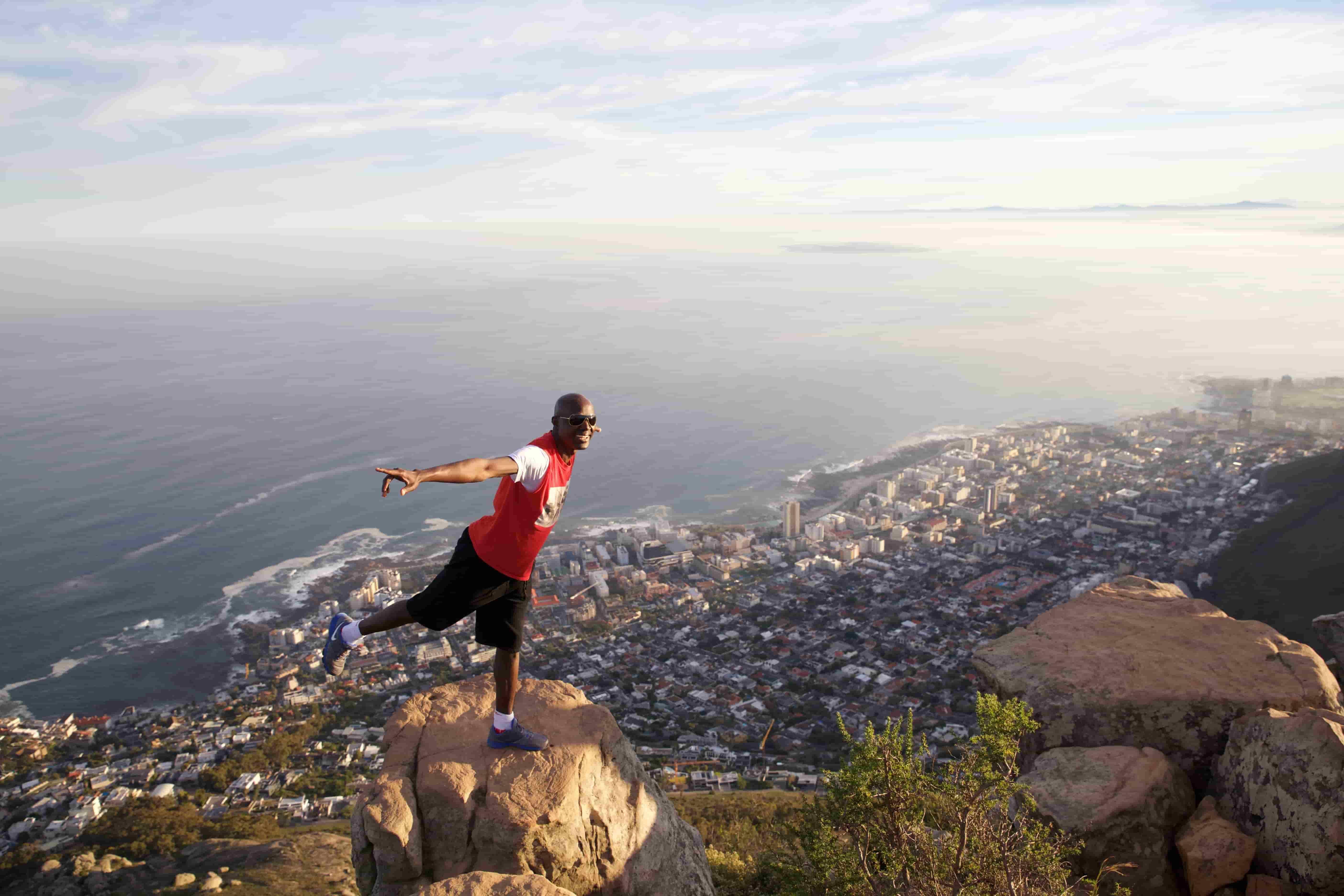 Cancer May Have Knocked Me Down Once, But I've Climbed Back Up – Literally
Battling cancer felt like climbing a mountain—slow, unsteady, faltering, progress, inching forward, finally reaching the pinnacle. Once atop the mountain I felt relief, vindication, powerful. But, I still had to get down. Slowly, carefully, deliberately. Stronger with each step.

My body and spirit had been through hell, but I rediscovered myself through hiking the gorgeous mountains of Cape Town, South Africa, an exercise that continues to increase my strength and mental healing. On the trails I have found many others battling life's challenges and that my own experience is a comfort to others.

A year ago I was at Johns Hopkins hospital in the United States for a consultation with Dr. Richard Battafarano, Chief Thoracic Surgeon. I was sullen, thin, and embattled, but he gave me hope, noting that I was a good candidate, young and in relatively good shape. He encouraged me to start a diet and exercise campaign in preparation for the major surgery I would have to undergo--plenty of protein and exercise to strengthen my lungs and avoid risks of developing blood clots after surgery. With the pain of radiation subsiding, I took charge of my life.

Though missing my family who were back in South Africa where we were living, I embraced my beautiful surroundings of Baltimore, Maryland's Inner Harbor. During the four weeks I had before surgery, I worked hard, motivated by the many walkers and runners around the area. I had always been active, and though I had been knocked down, I got myself up and found my strength. I started walking, keeping track of my steps with an app on my phone. First I had a target of 10K steps, then 12K steps as my days towards surgery drew closer, "My date with Destiny," as I called it. Positive messages and cheering from friends and family poured in, with some even joining me virtually in steps and push-ups! I documented my progress on social media and took pride gaining close to my pre-diagnosis weight. When my wife joined me a few weeks later and told me I was looking great, it felt better than it ever had before! I could look at the guy looking back at me in the mirror and smile again.

Being able to take control and make a difference in your own health inevitably helps navigate adversity or life threatening experiences. So does a daily prayer or affirmation hoping for the best, hoping for a miracle that the pain will subside, and when it does you will triumph and glory and praise because you're never really sure you're going to make it. And if you can say it and believe it and move your body towards a goal—hiking, climbing, increasing steps—to make it so, you are winning.

Hiking mountains became a metaphor for the trial I endured and survived. I want to climb more mountains around the world. I grew up in Kenya not far from Mount Kenya and Kilimanjaro and never climbed them. I dream to do so now. I aim to raise awareness and inspire more fighters, cancer survivors, and others fighting battles. Hiking has made me stronger and more powerful in a way I wouldn't have known before. I have found people to be so friendly on the mountains and hiking trials. Strangers speak freely because we are all on one mission, conquering mountains despite the pain. We all share pain, sweat, and determination. Sometimes one's determination falters, but someone on the trail is there to lift you up. I aim to be a comfort and motivator to those on the trail—whether the mountain trail, or the trail of life.

I remember a former colleague asking me what made me open up about my cancer situation. I know very well the fear of the word "cancer" back home in Kenya and the world over. Cancer stops people in their tracks, killing dreams and hope, and way too often killing people. I had only one wish--if I make it, as I prayed every day and night, then my new mission and passion would be to climb and keep on climbing real physical mountains and strengthen myself and others to climb those that life threw at me. Many patients and even survivors don't want to talk about it. By being open myself, I have drawn others out, and enabled them to face their fears. My gratitude is sharing my journey through hiking and helping develop the attitude and mental resolve that one needs to come out triumphant.

Through this newfound passion, I set up a Facebook page for "Hiking for Healing," where I post my weekly hikes with motivational quotes and messages with pictures. Along the way I have found new friends who are fighting and keep walking with them privately as we share ups and downs, trauma and hope and above all courage to fight and keep fighting as they too stay focused on treatment and their victory. I understand the fear and pain that comes with cancer, and my part is to be a constant cheerleader, a motivator willing to share wings of love and courage even when the fighters are losing hope. I hope through my hiking that I get to inspire and give hope to countless fighters until they beat cancer or come to a place of acceptance.

Hiking has been a great adventure and a path of rediscovery for me. My advice to those going through adversity is don't ever quit believing you can survive. The doctors and nurses have their roles to play, while your job is gaining the willpower and attitude to keep going even when the going gets tough. Life is too rough to keep playing safe. Today you are here, and tomorrow you are gone! Always remember that your attitude towards life determine life's attitude towards you.

Image courtesy of Author.

Have you went through a similar experience along your cancer journey? Share your story in the comments below!