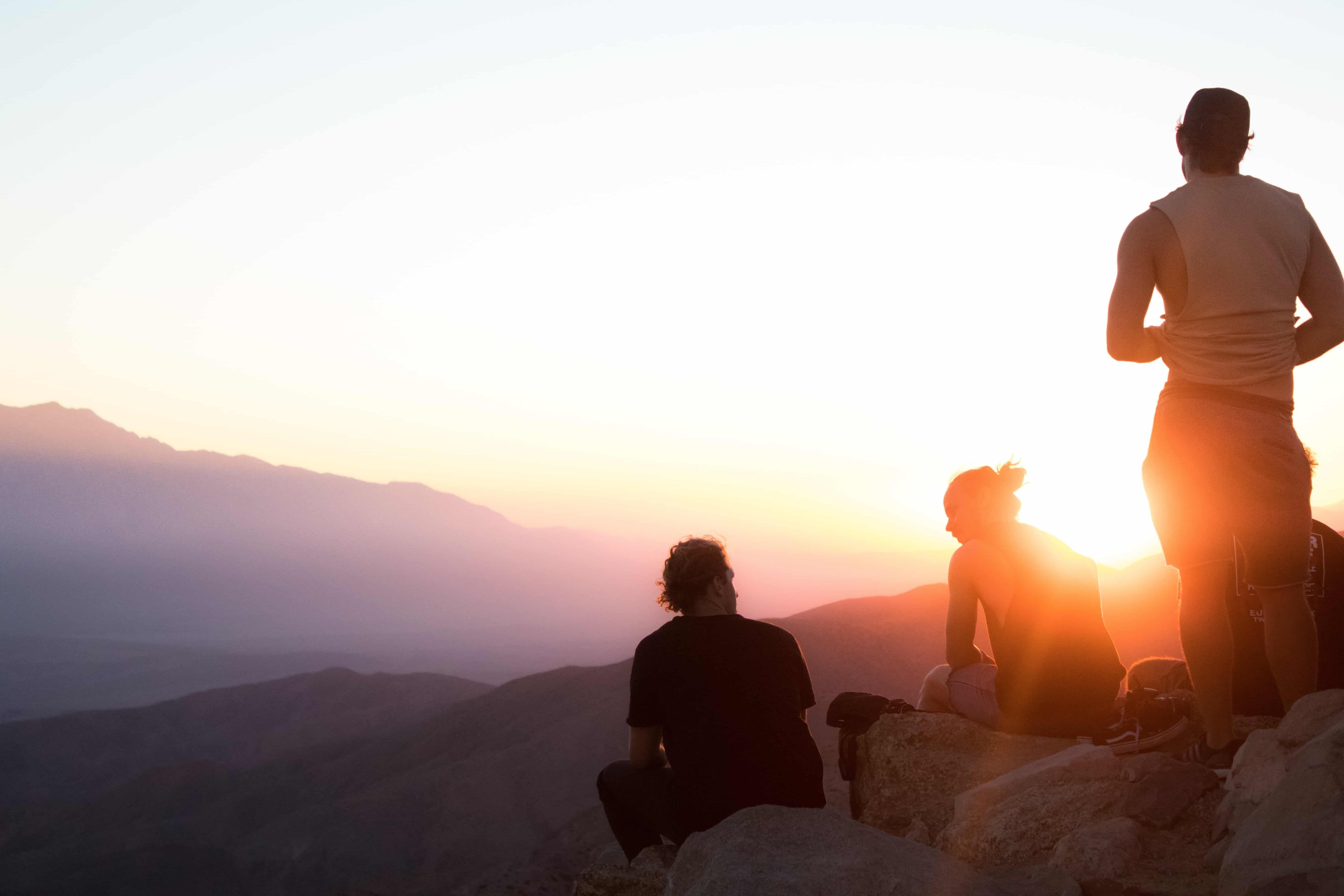 Why Was It So Hard To Find All Of The Good Cancer Resources?
In August, 2014 I proposed to my now-wife, Allison. We were new lawyers, starting out life in a new city, looking forward to our future together. It's fair to say that life was at an all-time high. If you're reading this article, you probably know there's a specific "but" coming…

But then cancer intervened. I was diagnosed with stage IIB/IVA Hodgkin Lymphoma in September 2014 at 28 years old. Instead of planning our wedding, we were scrambling to learn everything that we could about cancer: from treatment options and side effects to finding an oncologist to dealing with fertility issues. And then, we had the emotional chaos of breaking the news to our family and friends that I was sick.

It was a steep learning curve transitioning from young professionals with a bright future to being a young cancer patient and caregiver, and the stakes were high. We had to make a lot of sad, tough decisions very quickly because my future depended on it. A lot of life happened in a very short amount of time.

I have learned an unfortunate truth: nearly every newly-diagnosed cancer patient and their families have to start from scratch like we did. Over the last two and a half years we've met a lot of cancer patients and their families, all of whom tell a similar story of grappling with chaos. It's INSANE. But it makes sense. Who expects to get diagnosed with cancer? Almost no one, and certainly not young people.

Here's why that happens.

Fantastic resources exist, but newly-diagnosed patients don't know what to look for or where to look. It's so hard to do research when you're an emotional wreck and the clock is ticking. Finding an oncologist is totally overwhelming. You need to choose from a group of strangers to decide who will be responsible for your survival. Where do you start? Maybe you're lucky and know someone who has had the same disease and can make a referral. But what if that doctor isn't for you? What if you don't click? Where do you turn?

I remember frantically googling my disease on the day I was diagnosed: YIKES! There were so many "magical cure" and "chemo is worse than cancer" articles. And when I came across reputable cancer organizations' websites, my heart was beating so fast that it was hard to read, let alone click through the massive menu until I found info that looked like it might be helpful. I had no idea what to look for anyway.

It wasn't until I spoke with a friend of a friend who was a Hodkgin's survivor that I even began to have a clue about what to do. She calmed me down, explained what staging was and what PET/CT scans were, and helped me get a plan in place for finding the right doctor. That conversation was invaluable, but in the midst of the madness, we lost touch. We haven't reconnected since then.


"That conversation was invaluable, but in the midst of the madness, we lost touch."

There are still so many resources I wished I knew about when I was first diagnosed that would have made my life easier -- like Imerman Angels, an organization that matches patients with mentors who are survivors of the same disease. I hadn't heard of them until eighteen months into my treatment. It would have been game-changing to have a dedicated mentor who had already been through treatment before I started chemo. Or, did you know that the American Cancer Society has a program where volunteers can give you a ride to treatment? I sure didn't and I found out about it with only one more infusion to go.

Since my diagnosis I've tried to pay it forward by talking to newly diagnosed patients, and I am not alone. The cancer community is full of people looking to help others, to ease the burden of the disease -- but we aren't available 24/7, which is why my wife and I created Cancer Chatbot by CSource. We wanted to capture these intimate and important conversations between patients and help organize the information and resources that would have helped me so much when I was first diagnosed.

Our first product -- the CancerChatbot, by CSource -- is a straightforward text conversation from one patient to another. It's like talking to a knowledgeable friend who points you in the right direction. We hope to make our CancerChatbot the trusted aggregator for navigating cancer care, identifying the amazing resources, information, and services available to everyone going through cancer -- directly from one patient to another. But we need your help to foster its growth.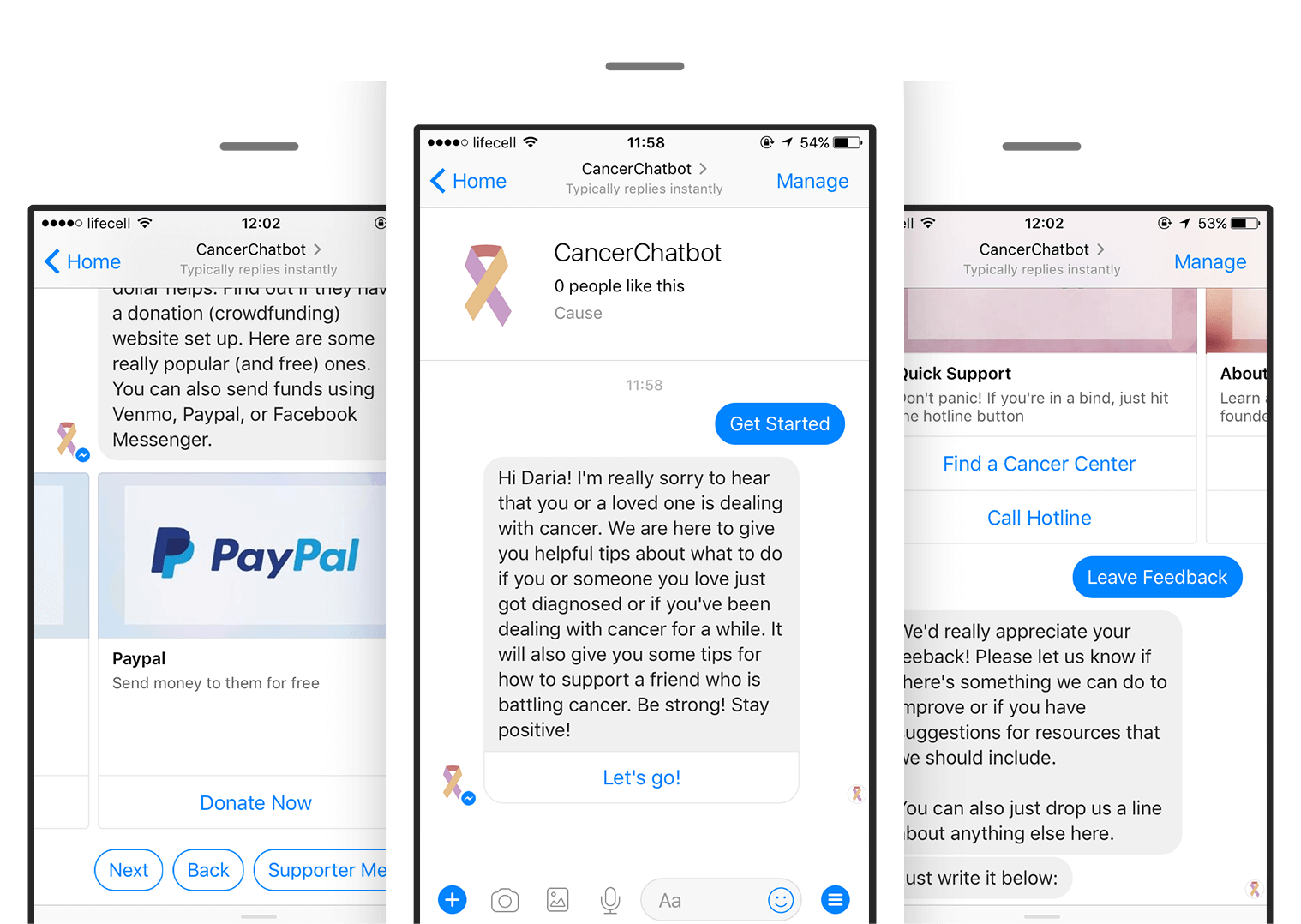 Here's How You Can Help Someone Going Through Cancer Now
Patients, Caregivers and Survivors

There are over 100 different types of cancer and twice that many organizations for each disease/disease subtype that provide great resources for patients of each disease and their families. We need your help to identify the things that help you and people with your disease most. For example, you can tell us about Wendy Walk in Los Angeles, one of the leading Sarcoma organizations and has a deep network of patients, caregivers and doctors -- and in turn, CancerChatBot can pass that along to a Sarcoma patient in Nebraska.

Are there services or resources that have been awesome for you? What services do/would you recommend to other cancer patients? Here's where to go to teach CancerChatBot what you know about cancer: fill out this form, where you can:
Share the resources that have been most helpful for you, whether they are for cancer patients generally or are specific to your disease (or your loved one's disease).
Let us know if you'd like to be a CSource ambassador who researches resources for your disease (or your loved one's disease) and networks with other people with the same disease to identify resources.

Cancer Organizations

We would love to partner with you and make your resources, information and content readily available for the cancer patients you serve. We can deliver relevant content to your target audience on a regular basis through the chatbot. Here are a handful examples of how we have integrated other organizations' resources:
American Cancer Society: We have integrated the ACS Guide to finding an oncologist and cancer center in a flow that coaches users about finding a doctor and have the ACS hotline available at the touch of a button so our users can call experts to ask disease-specific questions.
Leukemia & Lymphoma Society: LLS has amazing, printable lists of questions for cancer patients to ask their doctors, covering a number of different topics. This is a great example of how discovery of excellent resources from internationally recognized cancer organizations can be hard to find -- they have developed a fantastic resource, but don't have an effective means of getting it in the hands of the right people at the right time. We also feature the LLS Hotline and live chat in disease-specific resources.
IHadCancer: Our dear friends at IHadCancer's peer-to-peer support network are available in our moral support resources. The 'Find Someone' page allows members to search by a variety of filters to find other survivors, fighters, caregivers or supporters who can help provide the emotional and practical support that is needed during cancer. IHadCancer also has a very active blog where they feature hundreds of stories about some of the most important survivorship issues, written by people who truly understand.

Everyone - Share This Far And Wide!

The more cancer patients, caregivers and supporters we reach, the more resources we will aggregate and the more we can help each other! Let's work together to create a self-sustaining ecosystem with resources that have been vetted by real people to provide real help to anyone affected by cancer. There are so many things that can make our lives easier as cancer patients that we simply don't know about. This is ridiculous, and it is up to us to end this problem. With your help, we will make this vision a reality.

What's one great resource that you had during cancer treatment or that you found afterward? Share with us in the comments below!

Photo courtesy of Cynthia Magana. An original version of this blog was originally posted on CancerChatBot's Blog.